Uniworld sues MSC over Venice collision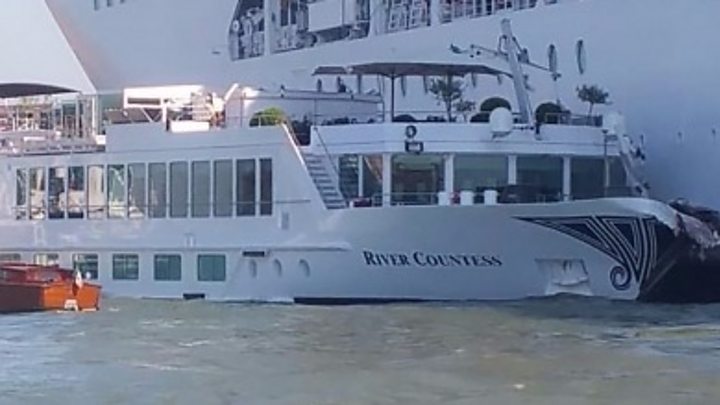 MSC Opera collides into the Uniworld River Countess.

Uniworld Boutique River Cruise Collection is suing MSC Cruise Management Ltd. for nearly $13 million in damages it says it incurred after one of MSC's large ocean ships slammed into the River Countess while it was docked in Venice in June.

In a press release Tuesday, Uniworld CEO Ellen Bettridge said the company filed the lawsuit after extensive conversations with MSC proved unproductive.

"We are extremely disappointed with the unprofessional manner in which MSC has decided to ignore the gravity of the situation, which has disrupted our guests, our partners and our team," said Bettridge. "Aside from the severe damage to our ship [River Countess], we were forced to cancel 14 voyages, frustrating our guests and travel partners during the peak summer season."

Uniworld estimates its losses to be in excess of 11.5 million Euros, or $12.74 million. That number, the company said, includes passenger reimbursement, ship damage, lost revenue and the protection of travel agent commissions.

"We do not like to litigate but have been compelled to do so based on the stonewalling and delays by MSC and its representatives -- even after receiving a letter of guarantee by their own insurance agency, West of England," Bettridge said. "We expect more and better from a fellow member of the cruise industry and regret having to go to court to seek a fitting remedy."

In a statement, MSC responded, "MSC Cruises has been working constructively with all parties and their legal advisors since shortly after the incident, and has been facilitating a close cooperation between those involved including their insurers. As liability in this matter is still under investigation by the responsible authorities, it is inappropriate to comment further at this stage. MSC Cruises is committed to continuing to cooperate fully in order to resolve this matter."

The suit was filed in Admiralty Court in the Queen's Bench Division of The English High Court Of Justice.

Uniworld declined to share a copy of the filing.