Royal Caribbean will reduce European capacity in 2014

IN:
Royal Caribbean is planning to make more reductions to its fleet of cruise ships offering European sailings in 2014.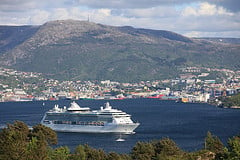 Included in Royal Caribbean's first quarter financial results, the company indicated it plans to reduce 2014 year-over-year capacity in Europe by an additional 10%. This change will mean in 2014 its European cruises will account for 25% of its capacity.
Royal Caribbean has steadily been scaling back the number of cruise ships it sends to Europe after a few years in a row of mediocre sales thanks in part to financial instability in the region as well as negative media related to the Costa Concordia tragedy.
Royal Caribbean did report demand for its "micro-deployment" of Oasis of the Seas to Europe in 2014 is showing "exceptionally strong" demand. The two-month adventure to Europe for Oasis of the Seas centers around a scheduled
drydock
stop in Rotterdam.