Heathrow remains top despite fall in transfer traffic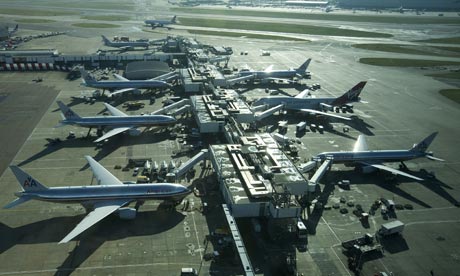 Heathrow's position as the UK's major hub airport has been confirmed by a new UK airports study – although the proportion of connecting passengers dropped last year.
Research by the Civil Aviation Authority found that Heathrow had the highest proportion of connecting passengers of all airports in England last year with 36% changing aircraft, down from 38% in 2009 but up from 2008's figure of 35% and 34% in 2007.
The majority of passengers using Heathrow and London City airports in 2010 were foreign residents who represented respectively 58% and 51% of their total passengers. Heathrow's percentage of foreign passengers has risen from 55% since 2007.
London City was the most "business-centric" airport in the study, with 63% of its passengers travelling for business, returning almost to the airport's pre-recession 2006 level and representing a seven percentage point improvement on 2009. The next highest was Humberside with 32% and Heathrow with 30%.
The airports with the highest proportion of leisure passengers were Doncaster with 97% and East Midlands with 92%. Passenger income in general continued to grow when measured against airports surveyed in 2008, 2009 and 2010.
At Heathrow, the average leisure passenger's household income increased by £2,000 to £60,000 and at Manchester the average business traveller's income rose from £65,000 to £68,000.
Average leisure passenger household income dropped slightly at both Gatwick and Luton airports.
Travellers from Heathrow took a higher proportion of trips over two weeks in length than anywhere else, at 23%. London City had the lowest proportion at only 2%.
Outside of London, the highest percentage of trips over two weeks was recorded at Humberside, with 18%. The lowest was at East Midlands at 6%.
The survey was based on interviews with 200,000 departing passengers about their travel patterns at five London-area airports - Heathrow, Gatwick, Stansted, Luton and London City - and seven regional airports - Birmingham, Doncaster, Humberside, Leeds Bradford, Liverpool, Manchester and East Midlands.
CAA regulatory policy director Iain Osborne said: "The CAA surveys people using the UK's airports to make sure that we understand how and why people travel by air to make sure that our regulation is tailored to their needs.
"This year's results will inform our response to the Government's work to develop an Aviation Policy Framework – with information about how passengers use the country's major airports particularly relevant to government."