Carnival, Holland America will sail to Cuba as planned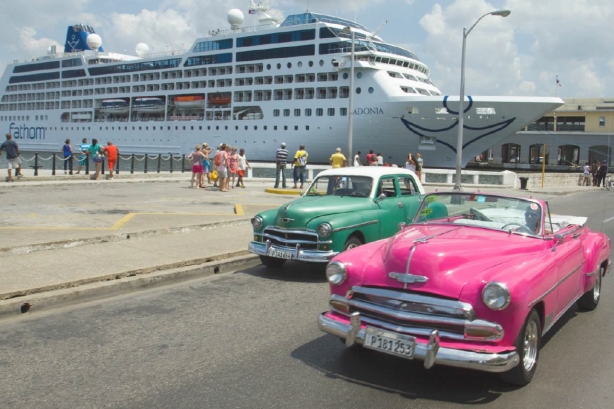 Carnival Fathom in Havana
Carnival Corp. said it understands the policy changes on Cuba that President Trump will announce in Miami today do not include any changes for cruises.
In a statement, Carnival said it is "pleased" that its ships will continue to sail to Cuba.
Carnival Cruise Line plans sailings from Tampa to Cuba starting later this month and Holland America Line recently announced plans to visit Cuba in the fall.
Trump is expected to end the ability of travelers to "self-certify" that they comply with rules for traveling to Cuba, which became the practice last year under President Obama.
"We will review the extent of the tightening of the travel rules, but our guests have already been traveling under the 12 approved forms of travel to Cuba since we undertook our historic first cruise to Cuba more than a year ago," a Carnival Corp. statement said.
The first cruise to Cuba from a U.S. port in decades was by Carnival's Fathom brand, which has since returned its single ship to P&O Cruises.
"Our experience in Cuba this past year has been extremely positive," Carnival Corp. said. It also said other Carnival Corp. brands have applied to travel to Cuba.
Costa included Cuba on some itineraries from 1995 to 1998, before it was purchased by Carnival Corp. from its Italian owners.
Other cruise lines chimed in after Trump finished giving his speech in Miami.
"Based on the information shared today, we are very pleased to learn the news that cruises to Cuba will continue under the new guidelines laid out by the administration," a statement from Norwegian Cruise Line Holdings said.
NCLH operates Norwegian Cruise Line, Oceania Cruises and Regent Seven Seas Cruises, all of which sail to Cuba.
Royal Caribbean Cruises Ltd. also praised the new Cuba policy.
"Royal Caribbean is pleased there is no impact to any of our cruises to Cuba as announced in the new U.S. policy toward Cuba today," said a statement from RCCL, whose Royal Caribbean International and Azamara Club Cruises brands make stops in Cuba.
Although cruise lines appear to have emerged unscathed from the Cuba policy review, the exact impact will depend on rule revisions forthcoming from the Treasury Department and other U.S. agencies.
"We will continue to review the full and exact scope of the policy changes and any updated regulations during the implementation period which may take several months," RCCL said.
Both cruise companies emphasized that their shore excursion programs were already in compliance with Treasury regulations governing Cuba tourism.
Both also said that their cruises with Cuba in the itinerary are popular. NCLH said it has 70,000 bookings for future cruises that include Cuba. "We are delighted our guests will continue to have the opportunity to experience the wonderful culture and incredible history of Cuba." the statement said.