Anthem of the Seas Now Sailing in the U.S.
Anthem of the Seas enters New York

Anthem of the Seas sailed past the Statue of Liberty and around Manhattan on a night of such warmth and clarity that it was hard for me to realize the month was November. I sat in the ship's beautiful conservatory and marveled at how welcoming such a huge vessel could be.
A ceremony marked the arrival of the Royal Caribbean International ship in the U.S., and Anthem made a glowing entrance. The onboard entertainment, dining and accommodations incited the same excitement seen in the U.K. for the vessel earlier this year. Americans were particularly enthusiastic about features such as the large virtual balconies in the inside staterooms, where people with live-streaming "windows" saw more dolphins and whales on the transatlantic crossing than many of those with balcony staterooms.
Doug Grau, director of sales for the Western U.S. for Royal Caribbean, says the active lifestyle activities available onboard — from a skydiving simulator to circus school — are an especially good match for Western travelers, who tend to be energetic and outdoors-oriented, falling within Royal Caribbean's psychographic. The top-flight entertainment, including the amazing "We Will Rock You" Broadway musical, tribute bands and cabaret shows, is also a particularly strong draw for the West.
"There is huge interest in Western states for Anthem (Quantum-class) and Oasis-class ships, and 30 percent of Royal's sales coming out of the West is for these ships," Grau said.
However, Grau finds a gap between agent experience and demand. When he talks to agent groups and asks how many have sailed with Royal Caribbean, most have; however, when he asks how many have been onboard during the past few years, only a handful respond affirmatively. Grau notes that when Mariner of the Seas came to the West, it was the first time many agents had seen the ship — and it was nearly 10 years old.
At the rate that the line's ship design and customer experience has changed, this means Western agents are missing out on the modernized Royal Caribbean, Grau says.
"If you aren't selling these ships, your customers are buying them elsewhere," Grau said. "I tell them it is well worth the investment to attend the East Coast Cruise 360 sessions and inspect a number of recent ships. Large ships scare a lot of agents, who are afraid their clients will be caught in long lines and tied up for hours when embarking. We've done everything possible, both in terms of design and technology, to make the experience human-sized and comfortable. We have more rooms that hold 80 or 90 people than ever before."
These efforts are paying off. At Anthem's embarkation on Nov. 4 in Cape Liberty, N.J., Royal Caribbean representatives with iPads checked passengers in as they were dropped off at the port. Common questions I heard from guests were, "Is that all?" and "What do I do now?" The answer: "Go right to your stateroom and enjoy the ship."
My own check-in experience, complete with credit card scan and photo ID, which I had not done in advance, was five minutes from start to finish — considerably shorter than check-in on ships less than a quarter the size of Anthem.
During Anthem's first cruise from the U.S., Royal Caribbean announced an order for a fifth Quantum-class ship to be delivered in fall 2020.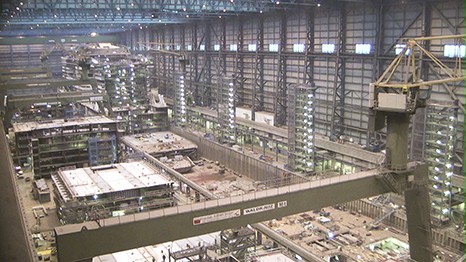 "It is such a pleasure to announce the order of another Quantum-class ship as we are welcoming Anthem of the Seas to North America," said Richard Fain, chairman and CEO of Royal Caribbean Cruises Ltd.
Fain says although there have been some tweaks in food, drink and entertainment, the Oasis and Quantum ships cross international markets with ease.
"These ships have been received with excitement by passengers and crew and have performed exceptionally well across the globe," he said. "We fully expect that momentum to continue as we add to this innovative class."