Carnival Triumph docks in Mobile
The disabled Carnival Triumph was towed into the port in Mobile, Ala., on Thursday evening, docking at about 9:20 p.m. Central time. Passengers began debarking at about 10:15 p.m.

Debarking the entire ship was expected to take up to five hours, as few elevators were working on the Triumph. There were more than 4,200 people onboard, 3,143 passengers and 1,086 crew.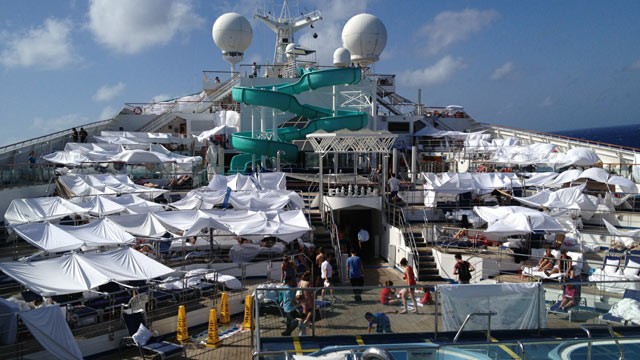 Chartered buses were taking passengers to New Orleans or Galveston, where the ship had departed last Thursday on what was supposed to be a four-day cruise.

Carnival is putting passengers up in hotels if they choose to travel to New Orleans, which is about a two-hour drive from Mobile. Carnival is paying for homebound flights from New Orleans.

Before debarkation began, Carnival Cruise Lines CEO Gerry Cahill went onboard to talk with guests and crew, Carnival said.

In a statement on Carnival's Twitter account, Cahill said, "I want to again apologize to our guests and their friends and family. The situation has been incredibly difficult, and we're sorry for what happened. Our company was founded on the idea of providing great vacations to fun-loving Americans, and clearly we failed on this cruise."

An engine-room fire on Sunday left the ship without power. With most toilets not functioning, guests were instructed to use red plastic bags for solid waste, according to passengers disembarking the ship.

Many of the passengers left the ship wearing bathrobes from the Triumph, as they were not prepared for cold weather. It was in the low 40s in Mobile on Thursday night.

"Of course the bathrobes for the Carnival Triumph are complimentary," Carnival joked on its Twitter feed.

Some passengers who were interviewed by TV news programs after leaving the ship lauded the efforts of the crew.

Carnival is rewarding hotel crew members who are close to completing their contracts, sending them on an early vacation while compensating them for their full term, said the line. Other hotel crew members will be transferred to other Carnival ships.

Deck and engine crew will stay onboard to help reposition the Triumph to a Mobile shipyard.

"They will then have hotel rooms Friday night and onward, as they will stay with the ship to help with repairs," Carnival said.